Community and Learning Gardens
VCU is committed to enriching the Richmond community by supporting access to learning gardens, fresh produce and food education.
---
We strive to provide VCU faculty, staff and students with space to grow their own food and flowers through our MCV Community Garden.
At our Monroe Park Campus Learning Garden, we work with the VCU and Richmond communities to increase access to healthy food as well as provide education around how healthy food can be grown and prepared.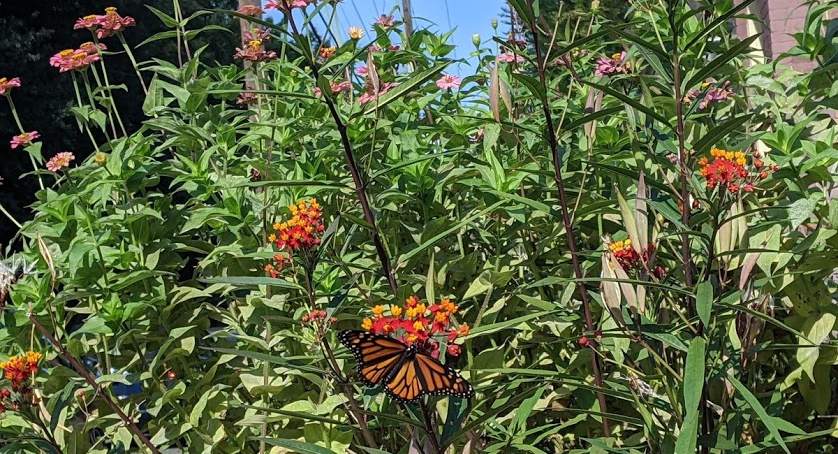 What we do
A community garden is a single piece of land gardened collectively by a group of people utilizing either individual or shared plots. They are publicly functioning in terms of ownership, access, and organization.
We help alleviate food insecurity at VCU and in Richmond via regular produce donations to our community partners

We provide hands-on, educational opportunities related to gardening, food access and food systems

We offer and care for growing spaces for students, staff and faculty on campus, and create universally-accessible spaces that enrich the lives of those in our community




Where we work
Get involved in our work! Check our volunteer opportunities here!
Addressing Food Security: Changing the Narrative on Hunger 
The primary purpose of the gardens at VCU is to fill a gap in food access and nutrition for students and residents in the greater VCU community. There is only one grocery store within a mile of Monroe Park Campus, and no grocery stores within a mile of MCV Campus. Accessing fresh food without a car should not be an issue in Richmond, and yet 4 grocery stores (Fresh Market, Ellwood-Thompson's, Kroger, and now Publix) are within a block of each other in the Museum District, while there is not a single grocery store within the limits of Jackson Ward, Monroe Ward, the lower Fan, and Richmond City center. The two gardens, microgreens lab, and distributed green spaces offer fresh food and open space for students and community members alike in these four neighborhoods through our donations to our distribution partners.

Urban communities broadly face food insecurity and Richmond city is no exception. Food security can be measured by a number of factors, like proximity to a grocery store, transportation, education/information and financial strain. With about 25 percent of Richmond's population experiencing poverty, and many neighborhoods located in food deserts, access to healthy food has become a significant issue in our community. Upon conducting a survey in 2013, we've found that many students at VCU struggle with this, as well. You can use the USDA's website for more information on food security, and can view current data on food security in the central Virginia region, as well as the Virginia Department of Social Service's road-map (as of October 2020) to end hunger. For now, we have condensed Osorio's "Remediating Food Deserts, Food Swamps, and Food Brownfields" (2013) to describe the main conditions of food security.

(Osorio, A. E., Corradini, M.G. & Williams, J.D. , "Remediating Food Deserts, Food Swamps, and Food Brownfields: Helping the Poor Access Nutritious, Safe, and Affordable Food." Academy of Marketing Science Review, (2013) DOI: 10.1007/s13162-013-0049-6)
Food Security is more than just being able to go to a grocery store. There are three main components of food security that all have to exist together for anyone to be considered 'food-secure'; accessibility, nutrition, and safety. Fortunately, most food that our community members can access is safe but because of the high degree of processing and preservation required to make it this way means the food is not nutritious. The neighborhoods that VCU shares exist both in a food desert (where nutritious and safe food is inaccessible), and also in a food swamp (where accessible and safe food is non-nutritious). Besides these conditions, there are cultural and economic barriers to food security that our work also addresses. Once a food item reaches a person's hands, additional questions arise that need to be considered in what is known as the "Acorn Squash Problem".
Cultural Barriers
Economic Barriers

"Is this food?"
"Is this food I want to eat?"
"How do I prepare this food?"

"Do I have what I need to prepare this food?"
"Do I have time to prepare this food?"
"Do I have time to eat this?"
"Can I store this food safely until I prepare it?"
By inviting VCU students and staff to the gardens as well as community members, we try to remove the cultural barriers to food access first. We show the process of growing food organically hands-on so that anyone can learn how and where their food comes from. We clean, pack, and label the produce from our gardens for our partner's to help recipients incorporate the food we grow into their meals, and we deliver recipes to our partners and at volunteering sessions for the food that is being grown.
By being urban agriculture advocates, we seek to improve the material conditions that create the above economic barriers to food access. Additionally, when scheduling and planning what we plant, we seek to provide a balance of easy to prepare foods like eggplants, cucumbers, microgreens, and kale, and directly edible foods like peppers, carrots, beets, and sunflowers. We are constantly testing new growing methods and plant combinations, as well as different food items in the gardens and lab to share our findings for what conditions create the best quality and largest amounts of food that we can bring to the community. By offering the food at low to no cost and making preparation information available to everyone involved in our work, we do everything we can to address the triangle of accessibility, safety, and nutrition as well as the cultural and economic barriers that exist between all of our community residents and food security.
For immediate updates and news from our gardens and other projects, visit the VCU Sustainability page on Facebook.
If you'd like to volunteer in the garden or other green spaces on campus, visit our Volunteer page.
For other questions, accommodations, or concerns, send an email to learningarden@vcu.edu and the Garden Coordinator will be in touch with you!